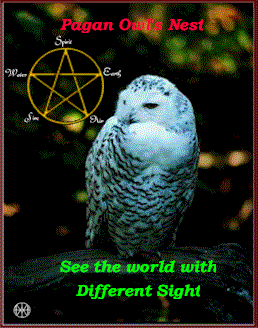 OK Lets see where to start? ummmmmmm Before people start asking me if that is me on the branch I am a Human Male.
A little about me. I was born on April 1st 1967 of a Very French Canadian Roman Catholic family.
Ottawa Ontario to be exact was my childhood home city.
I joined the Royal Canadian Army Cadets when I was 14 and spent 5 years in Cadets. I then joined the Canadian Armed Forces (Army) for the next 13+ years.
I got married to a woman from New Jersey in 1999 and moved to Pa. Unfortunately my marriage did not work. I returned to Ottawa Ontario after staying in a Motel for 2 months trying to make things work between me and my wife. (Lost Cause)
When I returned to Ottawa I was invited to a Pagan Brunch. I had been invited to these multiple times before but had refused. This time I accepted.
I realized while I was sitting and discussing things that many of their beliefs where mine and that I felt loved, wanted and that I belong. Suddenly I felt at home.
I started this page to tell people how I feel and to share others opinions. There are a variety of opinions out there about Wicca, Pagan and Witchcraft. With my page I hope to educate, provide links and resources.
A good friend told me that if you want 5 descriptions of being Pagan ask 3 Pagans and she is correct. For this purpose I do not say anything is right or wrong on my pages but I leave that to each individual to decide.

I have decided to totally Revamp my pages. I am doing this in the hope that it will make it easier for people to navigate through my pages and also a much faster download time.
What was once pics on the side will eventually be replaced with a written list at the bottom.
If at anytime you get lost in my pages please look for the index page where eventually I will put a complete list of everything I have on my site. Look for the Index Page box that will lead you back here. A sample of this can be seen below.
If you wish to contact me look at the bottom list and you will see a box that says "Contact Me". You can either leave a message in our guest book, send me an e-mail or even better come join me on the chat group I Moderate and Own.
Also before you leave my nest today put down some Runes of your own in my Guest Book and/or send me an e-mail and let me know what you think. You can do that by going to my Info Page by clicking the image you see to the right at any time. (keep in mind the image will appear on all the Main Pages on the left with the other Owls.)

February 7th,2002-2009