My First Ritual
One day while attending the Pagan Brunch I got into a chat with Lee. We started discussing different things including Rituals and the High holidays.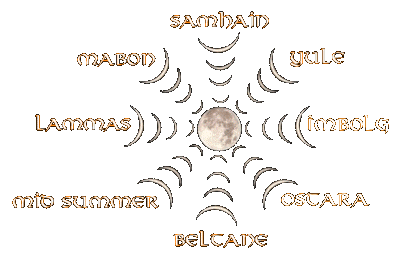 As it turned out the Temple of the Sacred Grove, which she belonged to, was having a Ritual the next week.
I was invited to this and decided to attend. I met wonderful people at this and discovered that everybody there were Solitaires that gathered together for the High Holidays. (I will get more into detail about the Temple on another page)
My first ritual was wonderful and filled me with positive energy and renewed hope in Humanity.
I am not as active in the Temple these days. My teachings just seem to have brought me to a different place and time.
I still highly recommend for people that are new, searching or just looking to be around others during the turning of the Year Wheel to join them for one of their rituals.
Visit their new web site at... http://www.templesacredgrove.org
August 28th 2005.